Ndikelionwu, Facts and Fictions
-Location
Geographically, Ndikelionwu can be located on south east of Nigeria,Under the current Anambra state of Nigeria. Ndikelionwu's coordinates is 6.083333 7.133333.

Ndikelionwu situates along the Ekwulobia-Oko-Ufuma-Ajalli-Umunze road. It occupies the land and water areas, bounded in the north by Ndiowu, and Oko town, in the south by Awgbu town and in the east by Ufuma town and in the west by Nanka town.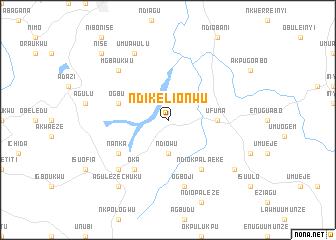 Nearby Towns

Ndiowu (3.7km south)
Ufuma (5.5km east)
Awgbu (5.8km west)
Oka (6.7km south west)
Nanka (6.7km south west)
Ndiokpalaeke (6.7km south east)
Ogboji (7.6km south)
Ekwulobia (7.8km south west)
Mgbaukwu(7.8km north west)
Umuawulu (8.3km north west)
Agulezechuku (9.2km south west)
Aguata (9.2km south west)
Akpu (9.2km south east)
Nise(10.5km north west)
Ndikelionwu Airports:
The nearest airport is ENU - Enugu , located 64.2 km north east of Ndikelionwu. Other airports nearby include PHC - Port Hartcourt Port Harcourt Intl (119.8 km south), BNI - Benin (171.7 km west), CBQ - Calabar (181.9 km south east),AKR - Akure (240.0 km north west),
NB: [all distances 'as the bird flies' and approximate]